this might be my favorite shirt i've made for z man yet…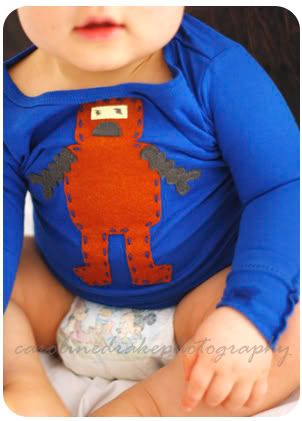 too bad the picture didn't get the little antenna sticking out the top of the head. oh well.
thanks for all the nice comments about my baby onesies! i really appreciate it. i'll have to think more seriously about selling them as i never intended to. it's just been a fun thing for me to do for my baby and for friends babies. some of them do take a lot of time, so i'm not sure how worth it would be for a small profit after materials, but we'll see.. sometimes it's not all about the profit, right? i do enjoy making them. so, i'll let you know if i start selling them anytime soon.
here's a few more i've made for z man. i couldn't help but make a little "z" shirt for the guy.
hope your not sick of looking at all my onesies. i have a feeling there are more in the works, especially since i have a few that i still need to get done..