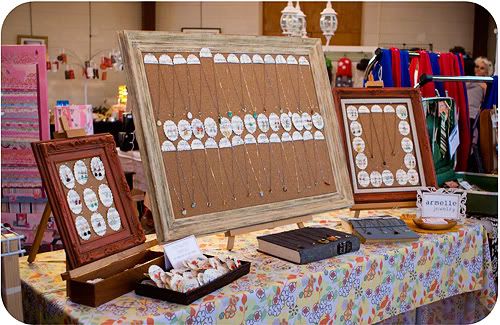 i know you are all probably more than sick of hearing about the beehive 
bazaar.
just wanted to post a pic of my table set up.
last night was a huge success already. it was jammed packed in there. 
[a little too packed for
my comfort]  i weaved my preggo body all over the place bumping 
into everyone. but, it was good.  
it's nice to see all the support for local artists.
so, thanks to all who purchased jewelry from me already.
some of you came up to me and told me how much you like my jewelry, 
which was really sweet.  
so thanks!
and, if you haven't had time to check out the
beehive bazaar
, you still have 
today until 10 pm
and tomorrow until 8.
see post below for address etc.
[and, p.s. what is with blogger? it's having serious issues this morning?]