people think i'm silly, because i almost like wrapping gifts as much as giving gifts. most of the time i don't get enough time to wrap all my gifts so pretty. so, this weekend i tried to wrap as many as i had ready.if you've been to any of my jewelry shows, you'll know i love to use vintage music sheets. i decided to incorporate the music sheets in my wrapping this year. plus, it's nice to re-use/recycle paper.i also love all the paper doilies i've seen all over lately, and i've been using them like crazy. so pretty.
if you like this style of packaging, here's a few fun tips + things you'll need:
brown kraft paper for wrapping gifts, or white gift boxes.
embellishments/trimmings- buttons [a new favorite], lace, ribbon, twine.
music sheets- i love to get most of my supplies at thrift stores. my favorite find was a vintage christmas caroller song book. on some, i was able to use actual christmas songs for the wrapping!
paper cake doilies. the mini ones are so darn cute!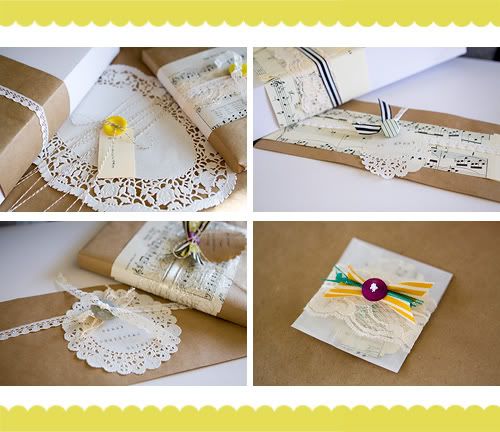 paper tags. i use tags, or i make them with my paper cutter.
use a type writer. i had a fun time using my old type writer to type my gift tags. i wrote the basic to's and from's. and, some i got silly and wrote random things like "do not shake."
don't forget to layer, layer, layer. i think the more layers the better!
try something new! i pretty much didn't wrap one gift exactly the same. it was a lot of fun using different materials and colors on each gift!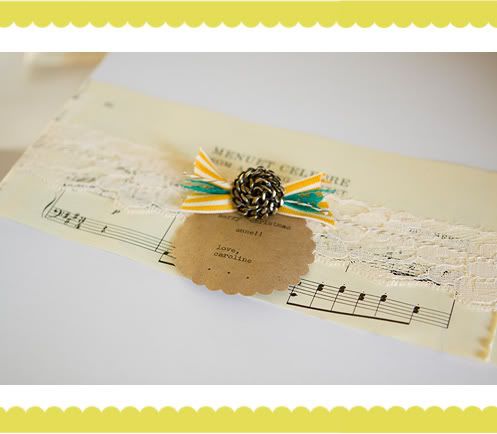 i hope this helps inspire you to get all your holiday wrapping done! sadly, i still have a lot more to do, but this is a start right?!